IN THE SPOTLIGHT: vbWatchdog
VBA error handling just got easier...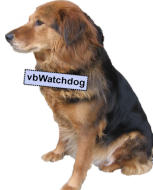 " vbWatchdog is off the chart. It solves a long standing problem of how to consolidate error handling into one global location and avoid repetitious code within applications. "

- Joe Anderson,
Microsoft Access MVP
Meet Shady, the vbWatchdog mascot watching over your VBA code →
(courtesy of Crystal Long, Microsoft Access MVP)
vbWatchdog: A unique code library offering global error catching for your VBA & VB6 projects.